Connect with shopping, dining, and yourself at Avenue: unparalleled experiences featuring world-famous brands, internationally renowned chefs, and the top-tier services and amenities of the InterContinental Hotel.
INTERCONTINENTAL HOTEL
AT AVENUE

The hotel tower will elevate luxury and sophistication to new heights for locals and visitors alike, and redefine the downtown Bellevue neighborhood. The 208-room hotel will occupy floors 3 to 11 of a 26-story tower, with luxury homes above it. On the third floor will be more than 12,000 square feet of meeting space, including a grand ballroom, a junior ballroom and additional meeting rooms. Also on that floor will be a business center, a fitness center and outdoor deck.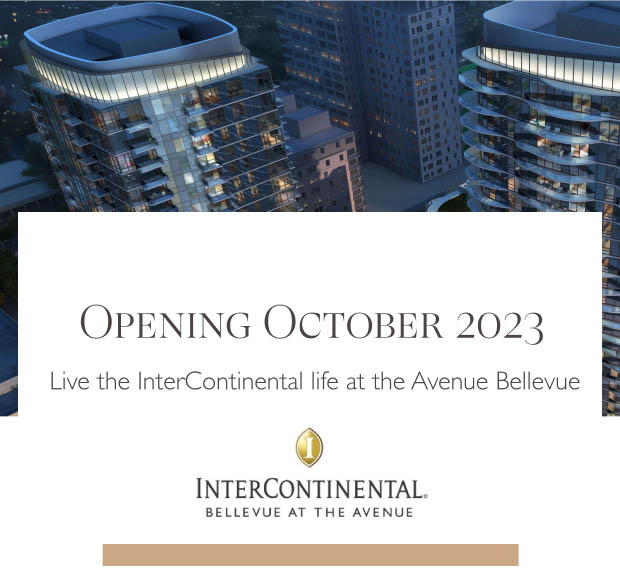 Known for his award-winning restaurants Saison and Angler, Joshua is the first and only American chef to garner three Michelin stars cooking entirely over open flame. Skenes brings his one-of-a-kind, fine dining, new concept restaurant to Avenue.

At his Avenue restaurant, Skenes will continue to experiment with local ingredients to bring an elevated dining experience unlike any other in the area. "The chance to be part of the Avenue team of visionaries that are creating this unique destination was simply too good to pass up," says Skenes.
Iron Chef Masaharu Morimoto has created a bridge between the culinary traditions of his native Japan and the American palate, bringing intense excitement, exquisite technique, and perfectly balanced flavors to countless diners throughout the world. He has garnered critical and popular acclaim for his seamless integration of Western and Japanese ingredients and has effectively created a signature style that positions him as one of today's foremost chefs.
James Beard Rising Star Chef semifinalist Robbie Felice is the co-founder and chef-partner of the exclusive pop-up pastaRAMEN.